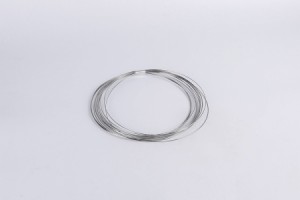 We will provide you with the best material on the market so that you may produce the best products on the market. We have a large selection of material, available in coil, straight-line,round wire and flat wire in many different sizes(from Φ0.025 to Φ10mm).
The company mainly produces stainless steel, precision alloy, high temperature nickel alloy,nickel base alloy, and high strength titanium alloy welding wire, filament and flat and rod wire.
Materials are as follows:
1 ) Pure titanium and its alloys 
                           Materials
Size (mm)

Application

Pure Titanium(TA1、TA2,Gr.1-4) etc.

0.1-10. 0

Hook Wire, welding wire, bone board, bone nail, screw, bolt, rivet and various hanging tools.

Bright Commercial Pure titanium

1.0-4.0

(0.05-0.5)×(0.2-3.0)

Aviation, chemical industry, medical industry, civil purpose, glasses

Titanium alloy (TB2、15333、TC4 and others)

0.2-6.0

(0.05-0.5)×(0.2-3.0)
Ni-Ti Shape Memory Alloy

0.2-6.0 

(0.25-0.5)×(0.5-3.0)

Temperature control device and elements for various instrument and devices.  Skull repair nail. Pressed screws for curing fracture of thighbone. Gallbladder racket, bone board, bone nail etc.  Brilliant wire and groove wire for glass parts.   Ultra-elastic cell phone aerial. Shape Memory alloy bra, etc.
2) Stainless Steel and Nickel alloy,Nickel base alloy and other various alloys
Product Name

Size (mm)

Designation and Application

Soft magnetic alloy

0.05-8.0

(0.05-0.5)×(0.2-3.0)

1J50、1J79、1J80Devices and instruments

Elastic alloy

3J1、3J21、3J40Spring and axial top material for aviation instrument

Expansion alloy

4J29、4J36Sealing and connecting materials in certain range

Resistance alloy

6J20、6J22Resistance element, electron-vacuum elements for devices and instruments turbine whiff sealing rope, etc.

Super alloy

GH3030、GH3040、GH533 Aviation and high temperature endurance elements

Non-magnetic and various kind of stainless steel Stainless steel,and Nickel base alloys

Medical equipment, petroleum chemistry, instrument and device

Nickel

Pure nickel, nickel-manganese alloy (electron-vacuum elements, TV set, etc.)
3) Welding  wire 
Products

Size (mm)

Materials

Copper coated gas-shielded welding wire

0.80-2.0

High strength low alloy steel

High Cleanness Bright Naked gas-shielded Welding Wire

0.50-6.0

Bright Arc-buried Welding Wire

2.0-6.0

Various types of alloy

Various types of pure metals and alloys welding wire

0.5-6.0

Pure nickel, titanium, aluminum and various alloy